Pop culture, as well as regular culture, is not my thing. Sometimes I wonder what my thing is, but that's an existential question I do not want to think about right now. However, for some mysterious reason, I started watching 'Keeping up with the Kardashian's' and…
I got obsessed.
It's been a month, and I am finishing season 8. When I wrote the draft of this post, I was in season 6. It was about two weeks ago. Since then I was busy. I couldn't edit it, fix the major language errors, find pictures and post it for probably two weeks because…
I was binge watching these series.
Yes, I do have a problem. I can get easily addicted to TV shows. But it's been a long since I found such a strong connection with a reality show. There's something about the Kardashian's. This luxurious, crazy and dramatic family helps to keep my wardrobe tidy, prepare food and do other desperate housewife's stuff.
However, before I got an idea to get to know the Kardashian's, I knew only a few things:
There's the Kim Kardashian;
She has a huge butt;
She can shock social networks with outfits;
She's with Kanye.
However, I spent about a month with Kim and her relatives, and I have to confess. She has something. She is inspiring. It's strange to admit, but there're few things that we can all learn from Kim Kardashian.
#1 PUBLIC IS ALWAYS WATCHING
Paparazzi, media, and fans follow each of the Kim Kardashian's steps. Therefore, she always thinks how she looks and acts. She cares about other's opinion and does not want to make herself to look silly.
Nevertheless, caring about others' opinion often is said to be a negative feature; I disagree. Keeping your standards, values and image high helps to look professional and build your career.
It doesn't matter that you do not have Kim's following. It's always important to look, speak and act properly because you can never be sure how your behaviour will be understood, remembered and used against you in the future.
#2 YOU ARE YOUR BRAND
There's no secret that Kim Kardashian created a self-brand before it was mainstream. Back in 2007 we barely heard about social networks, and former platforms did not have such features and tools to become famous. Thus, she managed to create an unusual career before it was even possible.
I did my little research and realized that I am not the only one who thinks that Kim is a perfect example of self-branding. Numerous articles on Google take her as an example and give tips for businesses, brands, and entrepreneurs.
Therefore, if you want to self-brand yourself, you should analyse the beginning of Kim's career. Apart from polished Instagram posts, she has a personality and values that helped her to become popular. I believe it's her professionalism, dedication to work, ability to focus and good manners.
The cherry on top – she has a goal and works towards it!
#3 BE PROFESSIONAL NO MATTER WHAT
As far as I seen, Kim Kardashian had to deal with numerous issues, starting from breakups, skin problems, and self-esteem issues. However, she was a professional and overcame her struggles.
A few seasons ago, she broke up with one of her boyfriends and couldn't pull back herself together, ditched meetings and was absolutely depressed. However, after a while, she realised that she has to create her own dream life. Thus, heartbreak is not a valid reason to give up on your professional life!
During the dance repetition at 'Pussy Cat Dolls,' she realised that she cannot see. She got a surgery few days before the performance. She took a huge risk, but she did not fall down the stage and performed well. Because she had no choice.
Skin disease was a shock for a princess. Kim wanted to cancel shooting the commercial. However, after the emotional breakdown that her career is over, she showed up at work because of her professionalism. She could not ditch the whole crew. What is more, makeup artist covered her imperfections without any problems.
Therefore, no matter how you feel (or look), you have to get up, dress up and work hard! You will be surprised with a result. What is more, you will be one step closer to your dream.
#4 AT THE END OF THE DAY WHAT MATTERS THE MOST IS YOUR FAMILY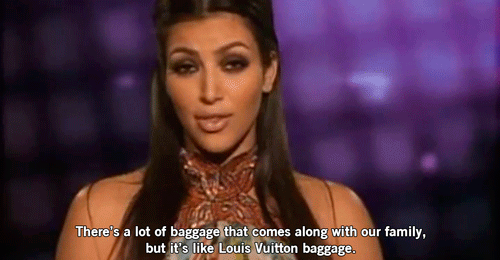 Kim is a career-oriented woman. Actually, the whole family is hard working (even if it seems that they aren't). However, they try to find time for each other. Family dinners, vacations or sisters time are their priority. That's beautiful no matter how crazy this family is, they always end up together.
Therefore, we all can learn to value our chaotic and crazy family members more. Establishing a strong family support system is important. Especially when we are living in difficult moments or have some new career opportunities. Support is always necessary.
#5 NEVER GIVE UP ON LOVE!
I truly admire Kim's naivety. Yes, her boyfriends were changing quickly, and she always declared love. She is a hopeless romantic who can easily fall in love. Of course, it's not the smartest decision. But let's be honest. It's better to be in love than feel the fear of being in love.
Honestly, she inspired me to look up for that naivety and love inside of me. Fortunately, she ended up with Kanye and lives her happily ever after. If she would have given up or let one of her heartbreaks kill her belief in love; maybe she would be still single.
But she tried numerous times. She kissed many frogs until she found the Prince Charming. Thus, I truly believe that it's important not to give up on love. What is life without love, right?
***
The list might be updated when I finish the series. Probably, it might be in a month's time. But now, I am going to watch another episode. Meanwhile, feel free to tell what do you think about this controversial America's star? Do you find Kim Kardashian interesting/inspiring? Or did I become a crazy one?